During the first days of campmeeting,
the President will ask, "What happens here next Monday?"
The crowd roars in response, "Missionary Day!"
The excitement and anticipation build as Monday approaches. We can hardly wait for Missionary Day to arrive.
In all the services on Monday the missionaries from World Gospel Mission share their hearts and ministries with us.
It is our firm conviction that Taylor County Camp Meeting should be worldwide in its outreach. Since the first encampment in 1939, Taylor County has been sending missionaries and Christian workers to the far corners of the world and faithfully providing prayer and financial support for these sent ones.
This year please welcome:
Jon and Lisa Mayo
University and Education Ministries in Africa
Based in Uganda
Our vision is to seek Jesus first so that through His holy love, lives, schools, and communities will be transformed. As we seek Him, share His love, and teach His Word, He reveals more of Himself to us. What a gracious God we serve!
Over the years on the mission field, God has given us the opportunity to do many types of ministry. However, in every country or situation we've been in, we've always found ourselves involved in working with students in some way. God is now allowing us to focus full time on inviting students to Jesus, discipling them, and sending them out to impact the world. Our passion is to disciple and mentor students who will transform their world for Jesus Christ.
God has allowed us to experience one of His movements through students in Africa. University ministries have rapidly expanded from a handful of students in Uganda to students in Kenya and Tanzania, with a vision to reach into more countries. A concentration on discipleship has resulted in more than 800 students meeting weekly in discipleship groups. We've seen students reaching out to students in different schools and reaching out to children. Many have come to know Jesus as Savior and many more are being discipled through different groups in various schools and universities.
We desire to see a generation of transformed students who will take the whole gospel to the whole world.
God has brought the nations to us. Dozens of countries are represented in the schools where student ministries have been taking place. God is placing these students in influential positions in society as they return to their home countries. Some who have graduated are now serving as lawyers, pastors, doctors, politicians, missionaries, and teachers. The potential for their impact is limitless!
Darin and Laura Arnott
American Indian Field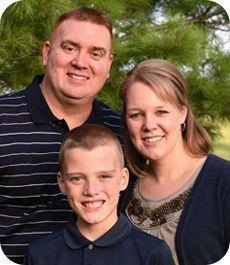 Darin: Bethel College (Indiana) and Ohio Christian University, course work in biblical studies
Laura: Indiana University, AA in dental hygiene; Bethel College (Indiana) and Ohio Christian University, course work in biblical studies
We have served in various roles at our home church, in children's and adult ministries as well as with local, regional, and global partners through outreach and missions trips. Darin has served as a mentor to students at Teen Challenge, food service for men's and inner-city ministries, and children's evangelical outreach drama. Laura served in church administration, women's and worship ministries.
We both grew up in loving homes in Nappanee, Indiana. As teenagers, we were both very rebellious. We were married in 2001 and had our son, Andrew, in 2004. We were lost and apart from the Lord for many years, looking to drugs and alcohol for joy and comfort. We had accepted Jesus as our Lord and Savior, but it wasn't until 2008 that we fully surrendered our lives to Christ. We were baptized together on Easter Sunday in 2009. God has transformed our lives through His Son, Jesus Christ. We know only God can truly provide the love, joy, peace, and freedom that all people need!
Now, God is using our story of transformation and redemption to glorify Himself. We can testify to the power of Christ as victor over bondage because we have experienced it! As disciples of Christ, our common passion for reaching out to the lost, the oppressed, and the forgotten began with our first family missions trip to Mexico in 2012. Through the last several years, God has given us many great opportunities to serve Him in many different capacities. God has continued to grow this desire in our hearts. We are thankful for this opportunity to serve the Lord and pour into the lives of His children on the American Indian Field.
This email address is being protected from spambots. You need JavaScript enabled to view it.