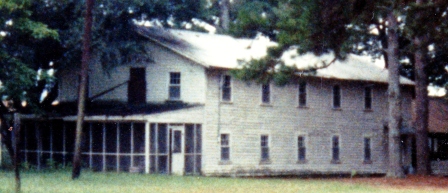 Early in America's history the camp meeting was a part of the spiritual nourishment for rural Americans. Referred to as "Brush Arbors," these early meetings took place in a favorable rustic setting, lasting from one to two weeks. Brush shelters were erected for a tabernacle.
In our pressured society of today the camp meeting is more needed than ever before. It is a vacation for the soul. It's a slower paced lifestyle, away from normal daily tasks, where the most important event is the Word of God preached, and fellowship with God's people is premium.
Taylor County Holiness Camp Meeting has been a part of that heritage since 1939. The camp continues to herald the message of heart purity and holy living. Located in a beautiful forested part of rural Taylor County, Georgia, this camp has a nostalgic link to the past, yet an exciting spiritual atmosphere and ministry for the present generation.
Since that first camp meeting in 1939, Taylor County has been a wonderful time of gathering for friends and family and a beautiful place of relaxation to "get away from it all." The camp program is par excellent, with its wide array of superior speakers and talented musicians. But none of this is the major reason for attending camp meeting. We come to hear from God, to draw close to Him, just to experience His presence and power. God is the central focus of the camp and all else is peripheral. He works in our hearts and lives and sends us forth to minister in a spiritually needy world.
Taylor County is a "family camp." We encourage the entire family to attend, and programs and activities have been planned for all age groups.
World evangelization has always been given high priority at Taylor County Camp Meeting. In cooperation with World Gospel Mission, the camp has an outreach to the ends of the earth.
The Leadership Heritage --The Rev. M.J. Wood, the founder and first president of the camp, served in that role for forty years. He was ably assisted by Dr. Donald Rollings. In 1979 Dr. Rollings succeeded Brother Wood as president. In 1989 Dr. Rollings handed the reins of leadership to Dr. Doug Carter who served 25 years. Rev. Lee Crist was elected President during the 74th encampment in 2013.